We love what we do because we get to be a part of one of the most important days of your lives as a couple—one that is filled with love, high energy, and bliss.
Our Experience
We've been in business for over 10 years, and in that time we've been a part of over 120 weddings. Our experiences have included weddings that were big and small, inside and outside, intimate and grand; and we've traveled out of state to work with couples across the country. It's important to us that you're able to leverage our experience and use it to your advantage, feeling at ease in our capable hands throughout the planning and execution of your big day.
Our Passion
We're passionate about giving every single wedding the attention that it deserves. We firmly believe that your wedding day is one of the biggest of your life, and should be treated that way. We don't look at DJing weddings as a chance to put more money in our wallets—we have day jobs for that. Rather, we view your wedding as an opportunity to share our passion and experience to help you and your guests make memories that last a lifetime.
Meet MC Sound DJ
Our services, ranging from DJing to lighting and officiation, are conducted by a close-knit team of professionals who care about your experience from the beginning stages of planning to that last dance. Collectively, we have worked on over 120 weddings and have experience DJing a wide range of events.
Meet the owners of MC Sound DJ, Matt and Corey, along with their team.
Corey Blaz
DJ, Co-Founder
MC Sound co-founder and sound experience engineer, Corey Blaz has worked over the course of ten years to build an exclusive, client-focused business in the wedding and special event industry. In the beginning, Corey and co-founder Matt launched MC Sound as a passion project—an opportunity to get to know people, celebrate along with them, and connect loved ones through music. Corey maintains that, while MC Sound is a solid business built on experience, it's these very elements that continue to fuel his love for the work. Each set of clients brings new possibilities and opportunities for ideas to take flight.
Corey is an experienced IT professional, but his gift is his marriage of technical and creative talents. He is a true professional who enjoys listening, learning, and creating meaningful solutions for one-of-a-kind experiences.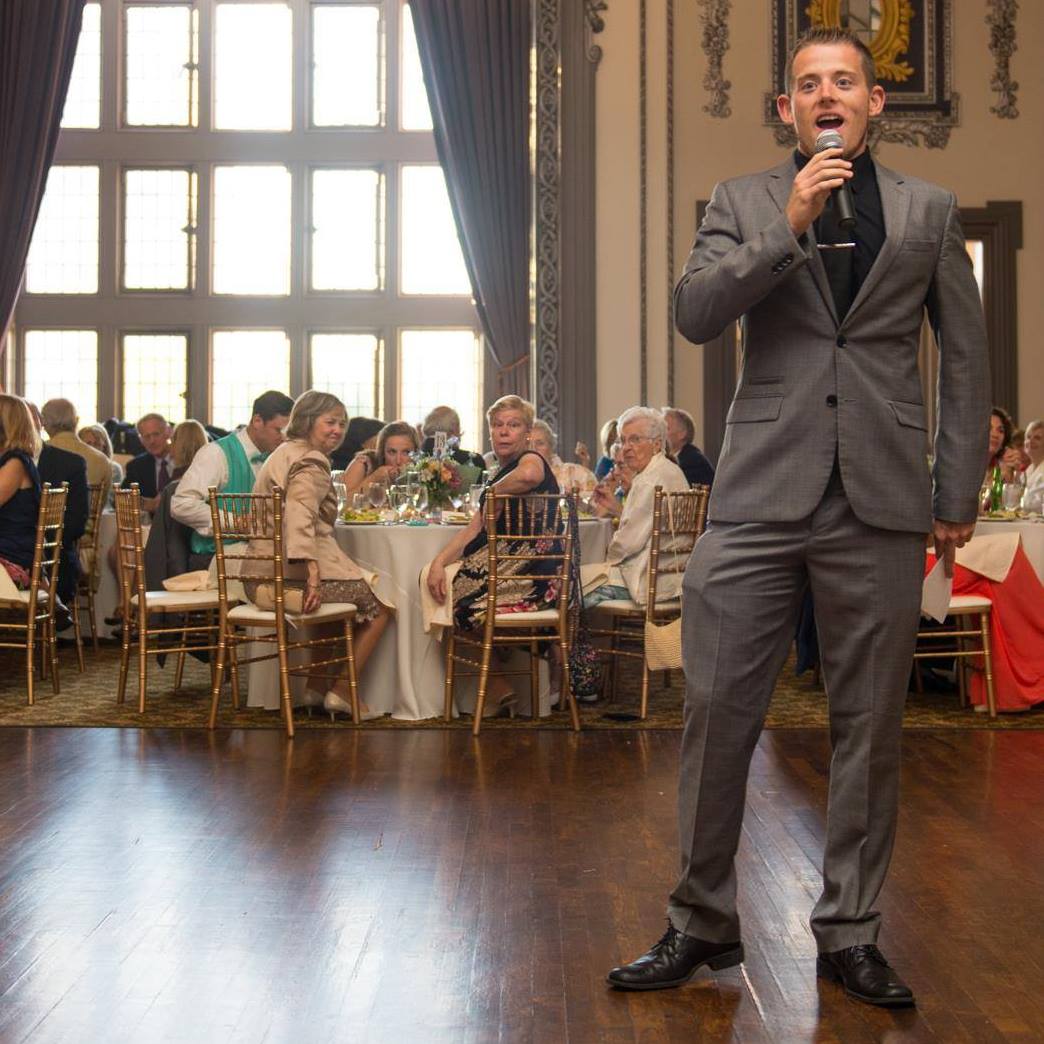 Matt McLaughlin
DJ, Wedding Officiant, Co-Founder
Co-Founder, DJ, and wedding officiant, Matt McLaughlin has worked tirelessly to make each and every wedding and special event show-stopping and memorable. His enthusiasm and personal approach fuels the couples with whom he works and this is always reflected in the final product—an unforgettable experience. For Matt, his work in the wedding and special event industry is unique because he gets front row seating as the couple plans for their big day. He enjoys the opportunity to work with so many different people and see some of Cleveland's most interesting venues.
Over ten years and 150 weddings later, Matt has worked unwaveringly with his business partner Corey to deliver outstanding technical service with a hugely personal and tailored touch.
John McLaughlin, DJ
John McLaughlin is inherently a people person. He truly enjoys the collaborative process that takes place between himself, the MC Sound team, and our clients. He is a natural communicator and collaborator, with a breadth of experience in customer service. To John, the opportunity to DJ is one he does not take lightly—he makes it his personal mission to ensure everyone is having fun.
Benjamin Henceroth, DJ
Music and entertainment have played a huge role Benjamin Henceroth's life. As a singer and musician, he knows how to light up the dance floor. For him, connecting with the clients and their loved ones through the music is the ultimate reward. He is a dedicated team member who prides himself on his trustworthy and passionate nature.
Let's Talk
We can't wait to get to know you!